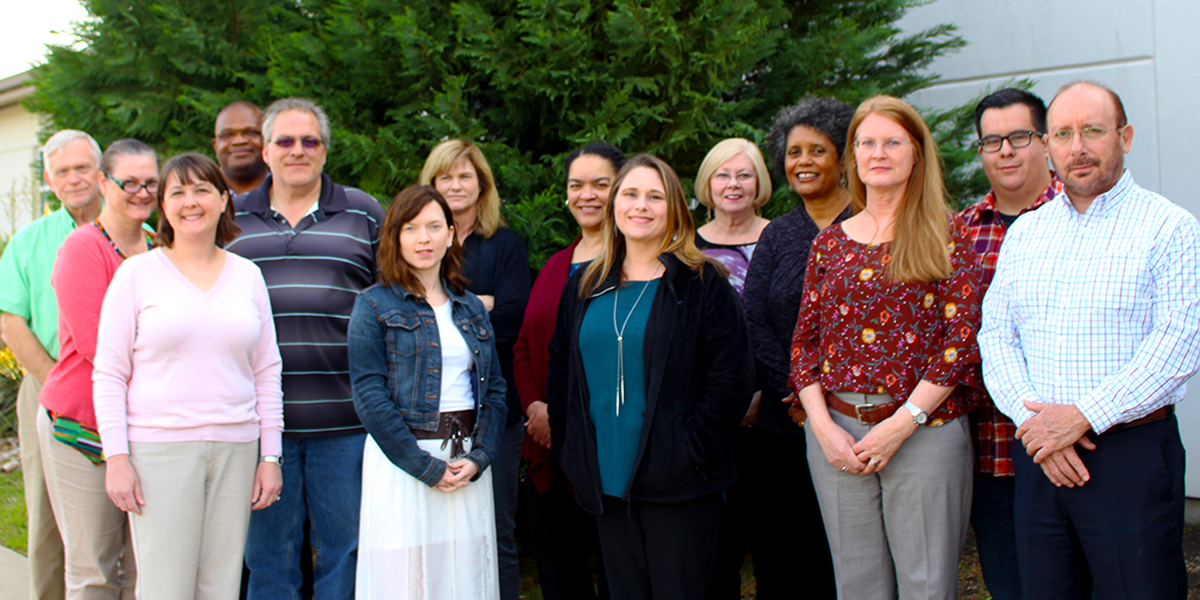 Business & Customer Services Team
Facilities Management is dedicated to serving our campus and community by providing our services towards the everyday functionality of the University of Texas at Dallas. In support of this, the Facilities Management Work Order Center is here for you!
How Can We Help You?
Welcome to the Facilities Management Work Order Center!
Report a Problem vs. Make a Work Request
Not sure what is considered billable work and what is not? Do you just call in the problem or do you send in a Work Request Form (online/PDF)?
A Few Pointers
Most, if not all, issues reported for the Activity Center (AB), Recreation Center West (RCW), Student Services Addition (SSA), Student Services Building (SSB), Student Union (SU), Dining Hall West (DHW), Parking Structure 1 (PS1), Parking Structure 3 (PS3), and Parking Structure 4 (PS4) will be billable requests.
General reports regarding plumbing and lighting/outages are non-billable (except for the buildings listed above)
General reports regarding spot cleaning, refilling restroom items, carpet shampooing, vacuuming, interior window cleaning, and stripping & waxing floors are all non-billable requests.
Requests to changes in temperature are all non-billable. (If there is a repair necessary the buildings listed above will be billable; all others are non-billable.)
"When in doubt, send a work request." If you'd rather not send a work request, give us a call and report the issue; we'll let you know if we need a Work Request Form (online/PDF).
Examples
Billable Work Examples
Report the Problem: Give Us a Call
Work Request Form
Clogged Toilets
Assembly / Installation / Construction
Water Leaks
Remodeling
Sink Not Draining
Painting
Sewer Gas Smell
Moves
Light Bulb Out / Re-lamp
Event Setups
Breaker Tripped
Event Custodial Services
Roof Leaks
Signs / Nameplates
Window Leaks
Dining / Retail Work

Temperature - Hot/Cold

Call EMS [Energy Management Services] (972.883.2147)

 
Bird in Building
 
Dead Animal on Premise
 
Tree Branch Trimming
 
Signs Missing
 
Spills, Water on Floor
 
The Work Request Form
For billable jobs, and estimates, you will need to submit a Work Request Form (online/PDF) to the Facilities Management Work Order Center.
Important Points
Please refer to these important points when filling out our Work Request Form (online/PDF).
"Contact" information needs to be filled out entirely. The "Contact" is the primary contact on a Work Order, and the Requestor is secondary contact.
Cost Center number and Signature Authority signature. The person signing the form at the bottom needs to have signature authority on the cost center provided in the first section. (You will hear from us to confirm if the Signature Authority is not listed on our PeopleSoft list of approvers).
"Location of Work" information needs to be filled out entirely. Make sure the location is clearly indicated so there is no risk of misinterpreting where you want us to go for the necessary maintenance, move, or event.
Dates & Times are very important, so is where you indicate it on your form.

"Move Support" are for scheduled moves or crate requests.
"Special Event" are for events. Fill out Start/End date & times, Set up date & time, and Takedown date & time. All are important!

Details… be specific; what you would like us to do? Be clear and concise. Space between tasks if there are multiples.
Read the bottom of the form! Here is where we keep important information you need to know. It tells you how to send your request, our work hours and notice of overtime, late fees for move/event requests turned in under 36 hours' notice, and our disclaimer in red. Please read everything provided for you.
What You Need to Know About Moves
Please review the Move Support Checklist and Disclaimer (PDF

[Portable Document Format File]

).
To Surplus: Non-billable as long as there is no specified date (Moves to Surplus from the billable buildings, mentioned before, are always billable moves).
From Surplus: always billable.
From building to building/room to room: always billable. If you are in need of crates to prepare for your move, request them in advance. A request for crates and a request for the move can be put on the same work request form, just specify date and time for each in the Details section of the form. They will be written up as Phase 001 & 002 on a work order.
If you need to revise or cancel work, send it via email.
What You Need to Know About Events
Before planning an event, please visit the Event Planning Guide on the University website. It is a very useful tool in helping you plan your event appropriately.
If you need to revise or cancel work, send it via email.
Facilities Management business hours of operation for our shops is 8:00 a.m. – 4:30 p.m. The rate for service during business hours is $46.50 per hour, per crewperson. (Setup and Takedowns require a minimum of two crewpersons each.) The overtime rate of service outside of these business hours is $69.75 per hour, per crewperson. Call-out services overnight and on weekends will be billed a minimum of three overtime hours per crewperson.
All services provided by Facilities need 36 business hours prior notice to support an event. Failure to provide this notice will result in a $100 late fee per service.
Events with a large head-count, providing food/drink, and/or taking place outside Facilities business hours are required to submit a work request for Custodial Services. The custodial contractor used for our campus has been contracted for office style cleaning only, Sunday through Thursday. They are not equipped or assigned to clean up after events, so please notify Facilities of your event custodial needs.
For after-hours events, please notify Facilities if heating/air conditioning or lighting is needed.
Diagrams are always helpful, especially for events held in open areas, i.e. outside or in building lobby/atrium areas. Please keep in mind the size of the tables we provide with regards to the feasibility of your diagram.
When reserving your room, always consider extra time for setup and takedown around your event.
Facilities Management does not equip the podiums with microphones. For a podium microphone, or to request the use of the equipment in a podium you need to contact Media Services.
Setup for the Galaxy Rooms and the Faculty/Staff Dining Hall is handled by the Student Union, not Facilities Management. They also have their own stage. However, you will still need to submit a Work Request Form (online/PDF) for Custodial Services should you meet the criteria listed above.
Setup for the Davidson-Gundy Alumni Center is coordinated directly through their operations manager unless otherwise instructed.
Make sure that there are no plans for construction or remodeling in or around your event space before you book it.
Cocktail tables and staging are available for use but must be reserved with University Events prior to submitting a Work Request Form (online/PDF). If approved by University Events, your request for the Setup and Takedown of those reserved items can be included along with your Facilities Work Request for other support services. University Event request forms are available on the Cocktail Tables and Staging page.
Billing Inquiries?
Rates & Overtime
Effective October 1, 2018: Facilities Management charges a base rate of $46.50 an hour per crewman. Most, if not all, jobs require a minimum of two crewman per job, which equates to $93 an hour, minimum charge.
Working hours for the Facilities Management shops are Monday-Friday, 8:00 p.m. - 4:30 p.m. If work is requested immediately outside this timeframe (crew is still on campus), an overtime rate of $69.75 an hour per crewman will apply. A three hour minimum overtime rate of $209.25 per crewman will apply when called out or scheduled to come back out on weekday evenings, and on weekends.
Job Estimates / Quotes
If you are requesting an estimate/quote on a particular maintenance/repair job, please send in a work request form (you may leave off the cost center number at this stage) and specify "QUOTE" in the Project Name.
All estimates/quotes are sent to the Work Order Center to be processed into a work order, and is then directed to the appropriate shop supervisor(s) for evaluation.
The shop supervisor(s) will reach out to the work order contact with a provided estimate/quote.
If the quote and work is approved a cost center will need to be provided by the person with signature authority.
Print Your AiM Work Order Invoice
To access AiM, use either the Internet Explorer® or Mozilla Firefox® web browser. In your browser's address bar, enter: https://facmgmt.utdallas.edu/fmax/screen/WORKDESK. You will be prompted to enter your current UT Dallas NetID and password.
Once AiM has fully loaded, select "WORK MANAGEMENT" at the top of the Menu box; then select "WORK ORDER".
In the lower right-hand corner of the WORK ORDER screen, a box is provided for you to enter your 8-digit work order number, inserting a hyphen prior to the last two digits (Example: 146300-16). Select the magnifying glass next to the box to access the work order.
After your Work Order has populated, select "Cost Analysis" from the "View" section provided down the left side of the screen, for charges currently posted to the entire Work Order. For charges posted to a specific phase number, select phase number (Example: 001, 002, 003, etc…) and then select "Cost Analysis" from the "View" section provided down the left side of the screen.
Billed Work Order phases will indicate "95-Billed/Closed". If a Work Order phase is not in "95-Billed/Closed" status, then charges may not be complete for that phase. Similarly, if a Work Order is not in "Closed" status then charges may not be complete for the entire Work Order.
To print "Cost Analysis" amounts visible from the Work Order screen: Maximize your web browser window, select the Print Screen key at the top right-hand side of your keyboard, open a Microsoft Word® document, right-click on your mouse over the blank page and select Paste.
If you are viewing multiple work orders, return to the Work Order screen by selecting "Back" at the top left of the screen until you are able to key in the next work order number in the box provided at the bottom left of the page and select the magnifying glass to access it.
AiM: AssetWORKS
Getting access to AiM: If you have not already done so, request access to AiM. Once you receive an email message confirming your access, log on to AiM.